14-10-2016
The European Training Convention
Premier educational convention for exercise professionals across the European health and fitness industry.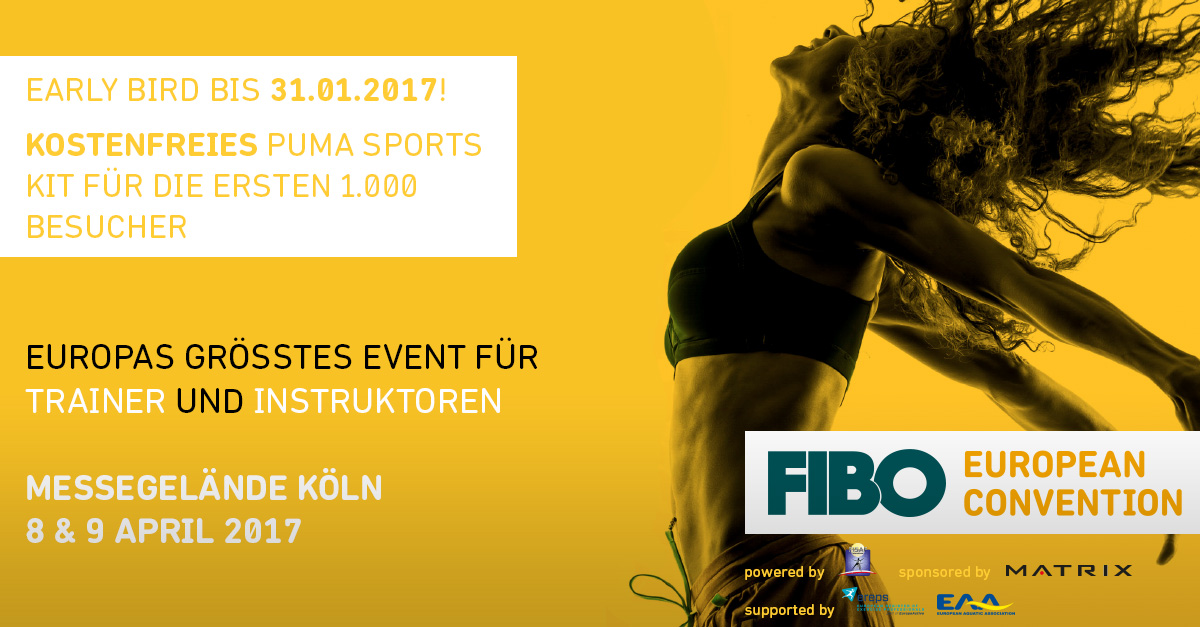 The concept:
EuropeActive and FIBO will together (with support from partner FISAF International) organise a 2-day European Training Convention (ETC) at the 2017 FIBO Conference in Cologne to take place on the Saturday 8 April and Sunday 9 April of the event. The main ETC will be supplemented by a EuropeActive Training Provider Forum held on Friday 7 April.
Content of The European Training Convention:
The conference is designed as the premier educational convention for exercise professionals across the European health and fitness industry. It will provide keynote sessions, workshops and work-outs that will educate and inform exercise professionals with theoretical and practical knowledge and skills that will positively impact their working practices. The programme will be split between 2 Halls and 3 main zones, providing the attendees with plenty of opportunities to attend innovative sessions, gain recognised career professional development and network with exercise professionals, training providers, employers and product/service suppliers.
Conference elements and planned agenda:
Main Stage – 8 keynotes over 2 days
Main stage sessions would involve a series of practically-based presentations e.g. demonstrating a particular piece of Personal Training equipment (kettlebells, suspension training, medicine ball training) or mode of training (functional training, bodyweight training, postural analysis and correction, manual resistance training, animal flow).
Breakout Rooms – 30 sessions of 45 minutes each over 2 days
Breakout rooms would focus on more theory-based sessions although but also include practical elements. These provide ideal opportunities to introduce nutritional, special populations elements.Both the main stage as the breakout room schedule will consist of repeating sessions to allow attendees to attend other zones/sessions and have more than one opportunity to attend a session of their choice.
Group exercise performances
The group exercise performances are exhibition and master classes by major group exercise companies. There will be series of group exercise sessions that attendees could attend to 'let off steam', learn new routines and techniques. Aside from the planned group exercise performances, 75 training providers will have a stand in the hall presenting their exercise equipment.
Fitness challenge
On Saturday 7 April the main stage area will be used to stage a 'fitness challenge'. For this challenge the entrants are provided with a series of fitness challenges to compete for the title 'ETC Fitness Challenge Champion'.
EuropeActive Training Provider Forum
The main ETC will be supplemented by an exclusive EuropeActive Training Provider Forum held on Friday 7 April. The EuropeActive Training Provider Forum will be a special event just for accredited training providers of EuropeActive. This event will consist of a networking lunch (12.00-13.00) followed by the forum including keynote presentations (13.00-17.00). http://www.europeactive.eu/events/ehff2017