De Workshop (in Nederlands gepresenteerd)
Ouderen zijn de snelst groeiende doelgroep van de komende 10 jaar, ook voor fitness.
Tijdens deze nieuwe workshop wordt de kern van de theoretische content van de NASM Senior Fitness Specialist opleiding behandeld. Tevens worden er in de praktijk voorbeelden gegeven hoe met het behulp van het OPT (Optimal Performance Training) model specifieke trainingen samengesteld kunnen worden voor deze doelgroep.
Inhoud
Definitie van ouderen/senioren
De fysiologische en anatomische veranderingen die optreden bij deze doelgroep
De psychosociale veranderingen waar we rekening mee moeten houden bij deze doelgroep
Veiligheidsrichtlijnen bij het trainen van senioren
Flexibiliteit training voor senioren
Cardiorespiratoire training voor senioren
Een geperiodiseerd en progressief trainingsprogramma samenstellen voor senioren
Deze workshop is bedoeld voor fanatieke fitness trainers, personal trainers en een goede aanvulling en voorbereiding op het online NASM examen van de NASM Senior Fitness Specialist opleiding.
Docent
Deze opleiding wordt verzorgt door Marco van Tol. Marco is hoofd trainer NASM PT opleiding, heeft veel ervaring als fitness professional, personal trainer en docent. Hij is gecertificeerd NASM master trainer en heeft ook ervaring met het trainen van senioren.
Senior Fitness Specialization (SFS) selfstudy (Engels)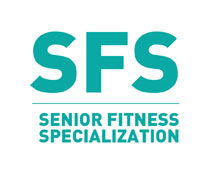 Keeping seniors active never gets old. You'll learn to meet seniors' specific fitness needs and help them preserve their independence by designing exercise programs that use NASM's Optimum Performance Training model.
The NASM Senior Fitness Specialist (SFS)—Play a vital role in keeping seniors active!
Keep this growing segment healthy and fit! NASM Senior Fitness Specialists:
Boost their reputation, career, and client base by capitalizing on the growing demand for physical fitness experts for seniors
Meet seniors' specific needs by designing exercise programs that use NASM's Optimum Performance Training™ (OPT™) program
Enjoy the convenience of many seniors' flexible schedules
Reduce seniors' risks for falls and preserve their independence
Understand seniors' limitations, common medical conditions, aging process, and frequent fitness obstacles
Invest in their client's lives and futures . . . as well as their own!
Pre-Requisites: none
Content Access: 365 days (1 year) from date of purchase
Exam Access: 365 days (1 year) from date of purchase
Exam Attempts: 3 times
Questions on Exam: 60 questions
Time limit for Exam: 90 minutes
Passing Score: 70%
Course Content: 104-page downloadable manual, 35-page programming manual, 13 online study modules with 13 quizzes and 163 minutes of narrated presentations.
Certificate: send by USPS 4-6 weeks after passing exam
CEU values (Contingent Educational Credits) : Passing exam 1.0
Brief Summary: The Senior Fitness Specialist (SFS) course will provide a fitness aspect to assist in the development of a healthier lifestyle for the active older adult and a specialized credential for health and fitness professionals. Health and wellness professionals can safely progress older clients with various physiological considerations and goals by following the scientifically proven OPT Model.
Please note this SelfStudy course is only in English, the workshop is in Dutch.
Kosten
De combinatie van deze online self study met de NASM Senior Fitness Specialist workshop kost € 349,-
---