Dit online E-learning programma (zelfstudie) is Engelstalig!
The NASM-CPT self-study program is designed with you in mind. NASM's systematic, evidence-based approach for designing exercise programs can prepare you to help anyone reach their fitness goals - from beginners to professional athletes.
This and all other NASM programs are founded on principles contained in NASM's exclusive Optimum Performance Training™ (OPT™) model, the industry's premier science-based training model.
Take the first step and begin the journey toward your new career and a better life.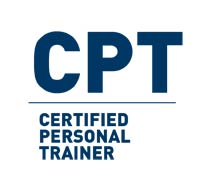 Pre-Requisites: None
Content Access: 365 days (1 year) from date of purchase
Exam
You can choose from the English or Dutch exam. To obtain the US recognized (NCCA) certificate, English exam must be taken. The choice between the Dutch or English US recognized exam must be made at the registration for the CPT Self Study. For the US (NCCA) approved exam, additional exam requirements apply.

Additional Requirements NCCA Exam; you must also have a valid CPR and AED certificate before the theory exam takes place.
Exam Access: English NCCA: 180 days (6 months), Dutch: 365 days (1 year)
Exam location: Online exam on a supervised location in the Netherlands
Exam Attempts: English NCCA: 1, Dutch: 3
# of Questions on Exam: English NCCA: 120, Dutch: 100
Time limit for Exam: 120 minutes
Passing Score: 70
Pricing for Europe : € 625,-

Course Content: Chapter reading in PDF format, online study modules: several hours of video, exercise
library, cueing library, practice exams/quizzes, and study guide. *
Certificate: Mailed via USPS 4-6 weeks after passing exam
NASM PT recognized certificate from the Self Study NASM CPT course: this online exam will lead to a NASM recognized PT certificate but not lead to the European recognized (EQF level 4) certificate. To require the EU recognized certificate, one must do the practical course and practical exam (see nasm_personal_training_opleiding).
The NASM Certified Personal Trainer (CPT) program is built on a proven, evidence-based training model that prepares you for real-world situations. Practical and application-focused content is presented in an easy-to-understand format. You'll master complex scientific principles and be prepared to accept the challenge of the certification exam. You'll enter the industry with the skills, knowledge and techniques needed to change lives - including your own!
*Please note this is for self-study course only, in English.
---