17-09-2016
FIBO 2017: Group fitness offensive, new topics and international partners: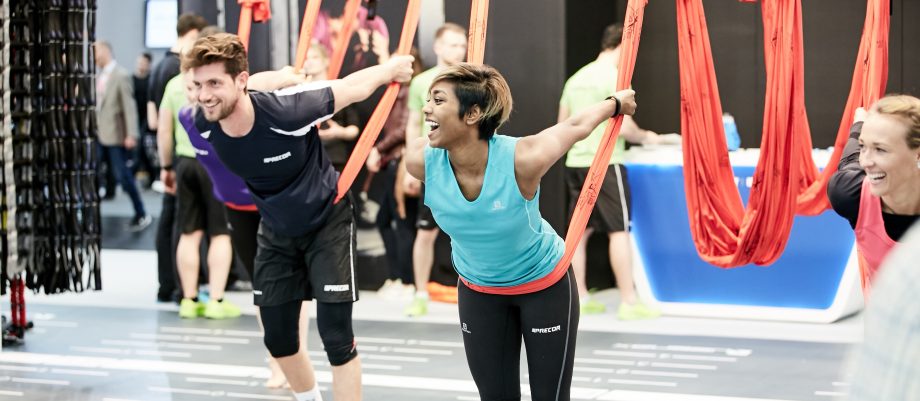 FIBO 2017 adds new highlights
A diverse range of courses, high-quality equipment and support by professional trainers are the indispensable hallmarks of good gyms. New group fitness concepts enhance the sense of community among members, which in turn strongly impacts the retention rate. Those are precisely the issues FIBO 2017 will tackle in order to provide new business opportunities for fitness studios. The Leading International Trade Fair for Fitness, Wellness and Health continues to drive the advancement of the market with an aggressive restructuring of the group fitness area, new topics and new partners.
"We're putting our focus even more squarely on qualified, professional gym staff", says FIBO Event Director Ralph Scholz. "Thanks to our new partners, we're the largest European industry network, which won't just benefit gym operators but also (personal) trainers, in particular." To make good on that promise, FIBO is joining forces with the entire array of European associations and institutions. FIBO 2017 exhibitors will be able to present their programmes to members of FISAF, the Federation of International Sports Aerobics & Fitness; EREPS, the European Register of Exercise Professionals; IFAA, the International Fitness Academy; the European industry association EuropeActive; and decision-makers from the largest European fitness chains.
Featuring the areas FIBO EXPERT, FIBO PASSION and FIBO POWER, FIBO 2017 will take place at the Exhibition Centre in Cologne from 6 to 9 April. Some 1,000 exhibitors and more than 150,000 visitors are expected to attend.
Hall 4.1, the new group fitness hall
With the reconfigured Hall 4.1, new exhibitors and new topics, FIBO is completely realigning its group fitness segment. The hall will be turned into the forum for the latest workouts from all over Europe. Complementing a large number of stages and demonstrations will be a self-contained Business Area aimed at providing a quiet place for talks between exhibitors and trade visitors. On Thursday and Friday, the hall will become the EXPERT hall tailored specifically to the needs of gym operators, (personal) trainers and instructors. Serving as the FIBO PASSION hall on the weekend, it will provide private visitors with insights into new workouts and an opportunity to get actively involved.
Offerings for studio operators
Studio operators can look forward to finding a complete overview of the innovations and trends in the group fitness segment in Hall 4.1. The programme includes both demonstrations and lectures. One focus will be on new virtual fitness training options at the gym. Increasingly popular within the industry, such options can be worthwhile supplements to trainer-led courses. FIBO will feature discussions of these new choices along with a comparison of their advantages and disadvantages. The Virtual Trainer Area will deliver an overview of exhibitor portfolios. Aimed at new target groups, the special "Kids Fitness" area on Friday will also present new business opportunities for studio operators.
Offerings for (personal) trainers and instructors
Two centrally located group fitness stages will be added to Hall 4.1 for the first time this year. One side will emphasise the classics while the other will showcase equipment-based workouts. Another stage will be set up to show visitors how to "relax & stretch". Besides innovative group fitness classes, the next FIBO will also feature the trend sports CrossFit and calisthenics. Plans also include an aqua fitness area. Yet another stage will be all about a recurring trend: hip-hop. On Sunday, it will be the site of the 1st Hip-Hop German Open held in cooperation with the DFAV and HipHop Unite.
1st FIBO European Convention and Convention Camp for 1,000 guests
A particular highlight will be the 1st FIBO European Convention, powered by FISAF, supported by Europe Active / EREPS, which will bring together trainers from across Europe, including the top instructors of the industry. With EuropeActive and its nearly 60 national associations, FISAF with 25 international affiliates, FIBO, IST-Studieninstitut GmbH and Glucker Kolleg, the new event embodies an unprecedented European network. The goal is to create the largest professional education and training programme for trainers in Europe. Top instructors will take the stage at the 1st European Convention as leading industry speakers will hold accompanying seminars on theory. Master class topics will include "Group Fitness Free Style", "Body & Mind", "Group Fitness Pre-Choreographic" and "Aqua Fitness".
Not only are convention tickets reasonably priced at €169.00 including trade fair admission, affordable accommodations specifically for trainers will also be offered at FIBO 2017 for the first time. The "FIBO Convention Camp" will provide trainers and instructors with much more than a place to sleep in a tent near the Exhibition Centre: numerous features like chill-out zones, catering and BBQ all add up to the camp's incomparable community character. Packages including a 3-night stay start at €121.00.